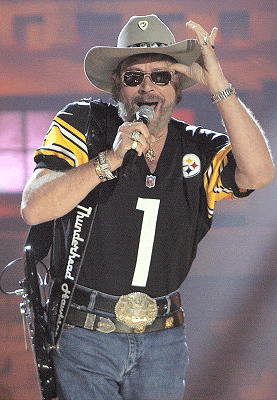 The Wednesday urban Assault Ride makes it's 6th appearance this week in a salute to Football Season.
Damn, it's been a hot summer. But the sweltering heat of August welcomes this week's hero, Football Season! If you are like me (and you probably wish you are), you've had it with baseball, golf and synchronized diving. It is time for some good 'ol US American football. The Longhorns debut this week against the Florida Atlantic University Burrowing Owls. The Owls are apparently one of the finest High School Teams in the state of Florida. Should be an interesting year for the Horns with a lot of new talent. So, let's welcome in Football Season with a bike ride. We will meet at the Alumni Center and do a 'Texas Football Tour' with a loop around the stadium, and a tour of some classic Longhorn sports bars, including Scholtz's, The Tavern, and local legend - Creekside.
As an added bonus, Wednesday is LBJ's 100th birthday. The LBJ library will hold a birthday bash with FREE Rudy's BBQ and Amy's Ice Cream. The event will be held at the LBJ Library from 6-8pm. Parking might be tight, so get there early or ride in. Thanks to Charlie for the idea! There will be no scheduled 'Long Ride' this week, so you'll have an opportunity to honor LBJ by eating free food. As an added bonus, the Clock Tower will be lit up with '100' all night, hopefully to honor LBJ's birthday and not the estimated number of Colt McCoy interceptions this year. The LBJ event is not 'on the ride', if you want to attend, go beforehand. It's going to be too crowded to try and meet up, so you are on your own.
http://www.lbj100.org/
The Ride:
Start/End: The Alumni Center, across from the Stadium on San Jacinto
Time: Ride leaves at 7:15pm SHARP, return approx 10p
Distance: 8-10miles
Difficulty: Easy
Bring: Helmet, bike lights (front and rear), lock, beer money
Attire: All riders are strongly encouraged to wear some Longhorn gear
The Map